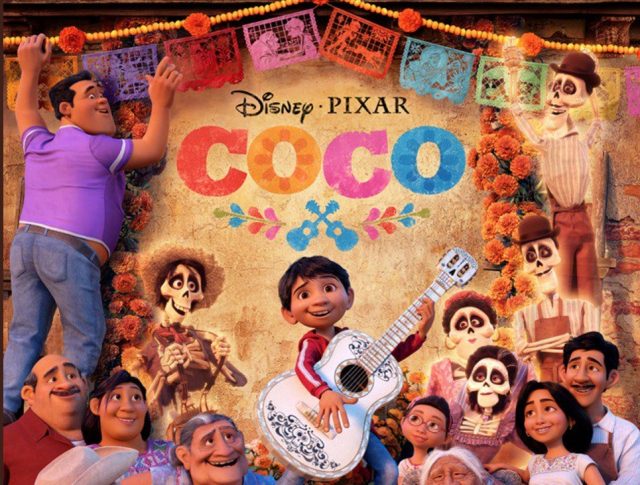 Looking back, the last time I was really bowled over by a feature from the famed animation studio was 2015's masterpiece Inside Out. In my humble opinion, Coco is one of the greatest animated features Pixar have ever made. Set in Santa Cecilia, Mexico, the film explores the traditions surrounding Dia de Muertos through the tale of Miguel (Anthony Gonzalez), a young, music loving boy who accidentally finds himself in the land of dead, searching for a way to get back home by gaining the blessing of his music forbidding ancestors. The film is about the importance of family and about following your dreams and passions, and it is absolutely, unequivocally beautiful in both its message and its vibrant aesthetic.
In the way that all of the very best Pixar offerings do, Coco is about so much more than an exciting adventure between a boy and his skeletal companions in a magical world. Yes, it is heaps of fun, there are plenty of laugh out loud moments to enjoy and some genuinely great Latino flavoured songs to embrace, but the film also dives in to a bunch of topics that you wouldn't immediately associate with a kid's movie. The narrative touches on Alzheimers and memory loss, on broken families, on dead beat dads, even on cold blooded murder, and it does so in a way that is accessible for younger viewers and poignant for adults. I'm more than willing to admit that my own Spanish heritage might cause me to feel something of a special connection with the hispanic vibe of the film, but any personal attachment I have to the world and culture of Coco does not take away the fact that the film is an utter triumph on every level.
Coco is a stunning love letter to Mexico and Mexican culture, and although the film has no doubt been in production for years, its release date and presence in the current climate feels particularly prescient and poignant. Coco builds bridges to a culture that some are trying to close out with a grotesque wall. Give me the beauty of this film over the beastly actions of those who shall not be named any day. It is joyous, it is emotional, it is charming and it is gorgeous to look at. A stunning film on the inside as well as the outside. Bravo Pixar, y muchas gracias!
Now, go grab some popcorn!
Fatin 🎬